Basement Gyms in Ottawa
Enjoying the Comfort & Convenience of an At-Home Gym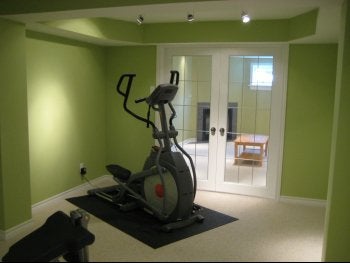 Why pay a monthly gym membership when you could work out at home? For free?
At OttawaFinishedBasements.com, we can help you turn all or part of your basement into a gym. As leading experts in basement renovation in Ottawa, we're familiar with the challenges that come with renovating a room for its maximum potential. Fortunately, our team has more than 10 years of experience and are well-prepared to handle your basement remodeling project! We would be happy to provide you with a free design consultation so you can easily get your project going.
Here are some of the many benefits of adding a gym to your basement:
Save money by eliminating the need for a gym membership.
Cut out the hassle of having to drive to the gym.
Enjoy your own personal space — no more dealing with a crowded gym.
Customize your gym to your personal workout needs and habits.
There are few better ways to make use of a spare basement than renovating it into a household gym. An at-home gym is both functional and practical. We are excited to help you create the perfect gym for your basement!
If you have any specific questions about how you can get started on your basement gym project, please call us at (613)-882-3349!